Duplex, Closed-Coupled Pumps
CLICK HERE FOR PERFORMANCE CURVES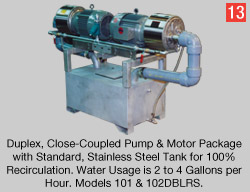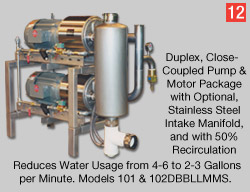 Stainless Steel, Duplex, Single-Stage Packages, up to 20HP, for Fast Installation, Low Water Usage and Quiet Operation
Duplex, vacuum pump packages are composed of Lyco Wausau simplex packages stacked two high or mounted back to back. Standard bases are designed for this module arrangement. Packages include a stainless steel, duplex separator/muffler and service liquid line.
Water usage can be reduced with a 50% water saver option or a 100% recirculation option that uses a 35 gallon tank. Central, recirculation systems are often used in installation with multiple duplex packages.
Duplex pump packages offer stand-by maintenance advantages. First, some capacity remains available when one pump is removed for service. Second, all Lyco Wausau pumps are compact and light enough to be easily removed and returned to a maintenance shop for bench repair or to the Lyco Wausau factory. If a spare pump is kept on hand, down time is minimized and emergency repairs eliminated.
Special pricing for standby pumps is available to Lyco Wausau owners.